Partnership distribution
Benefiting from an established Chinese network.
Asia offers exciting growth opportunities. With Hywin Wealth as a recognised Chinese financial services provider, VP Bank can successfully advance its Asia strategy.
Interview with Dr Nick Xiao, Vice President Hywin Wealth Holdings and Chief Executive Officer Hywin International and Will Wang, Head of Alternative Solutions & Strategic Partnership Asia VP Bank.
How did the partnership with Hywin come about?
Will Wang: VP Bank's Asia strategy prompted us to make contact with various Chinese financial institutions. During the discussions, it became clear that Hywin and VP Bank were the best fit in terms of philosophy, entrepreneurial spirit and vision for the future.
Nick Xiao: Hywin and VP Bank held their first meeting in October 2018. Further visits followed in 2019. In 2020, the discussions moved into the implementation phase – primarily with projects in the areas of External Asset Managers (EAM), investment funds and marketing events. In March 2021, VP Bank became a unit holder in Hywin, establishing a long-term strategic orientation.
Clients in Asia are increasingly using family offices as a vehicle. Hywin and VP Bank can work even more closely together in future to gain further market shares.
What are the main advantages for Hywin in this partnership?
Nick Xiao: Hywin clients want to allocate their assets internationally. Therefore, they are searching for safe custody, professional advice, an open product platform and efficient execution. VP Bank meets these client needs and helps Hywin to strengthen client relationships. In addition, there is an opportunity for Hywin to learn from VP Bank with respect to discretionary mandates, asset structuring, fund solutions and other topics.
And the advantages for VP Bank?
Will Wang: The partnership with Hywin provides VP Bank with efficient access to China, the most important growth market for wealth management in Asia. Hywin's 17 years of experience in China also provide us with extensive know-how about Asia. This also helps our clients with our advisory services regarding investment and planning. If clients wish, VP Bank can also find a reliable partner for their local wealth management needs with Hywin in Hong Kong and Singapore.
What areas does the partnership cover?
Will Wang: Our partnership essentially focuses on three areas. First of all, we are working together on building the VP Bank brand among clients and employees of Hywin in Mainland China and Hong Kong through a variety of channels. Secondly, we have established close cooperation in cross-border wealth management and product distribution. And thirdly, there is a successful joint effort with Hywin Hong Kong in the form of a traditional EAM model in investment and wealth planning as well as financing. This is where we play to our strengths as an experienced intermediary bank.
How satisfied are you personally with the cooperation?
Nick Xiao: VP Bank meets all the requirements for Hywin. It is a wealth manager with an established client base and is also an exchange-listed enterprise with recognised governance and transparency, a solid capital base and risk management, and a clear commitment to Asia. At the same time, the good relations and shared values between our shareholders and the management team have strengthened the cooperation.
Will Wang: Our cooperation is a very entrepreneurial activity that requires not only shared visions, but also consistent strategic work as well as intensive internal and external communication. It can be compared to a newborn baby who, after a relatively short time, has already become a healthy teenager and can look to the future with hope and confidence.
Has the partnership been well received by clients and Hywin employees?
Nick Xiao: Hywin's clients see the collaboration as a valuable extension into the offshore sector. Above all, they appreciate VP Bank's strengths in technology-supported custody platforms, fund solutions, wealth planning and private markets. VP Bank's China-savvy, Mandarin-speaking teams in Hong Kong, Singapore and Vaduz really impressed our Hywin clients and colleagues because of their multicultural approach and professionalism. And our Hywin colleagues see VP Bank's specialists as coaches and partners when it comes to research, consulting, fiduciary services and risk management.
Are there any joint projects in the future?
Nick Xiao: Clients in Asia are increasingly using family offices as a vehicle for investment and succession planning. Hywin and VP Bank can work even more closely together to gain further market shares in this area. Another exciting topic is the transfer of assets to the next generation.
Will Wang: Within the framework of the applicable cross-border regulations, Hywin China and VP Bank would like to join forces to further expand international product distribution. Coronavirus mea­sures permitting, we will organise physical roadshows as well as internal and external events in Mainland China. This would strengthen and deepen the partnership between us even further.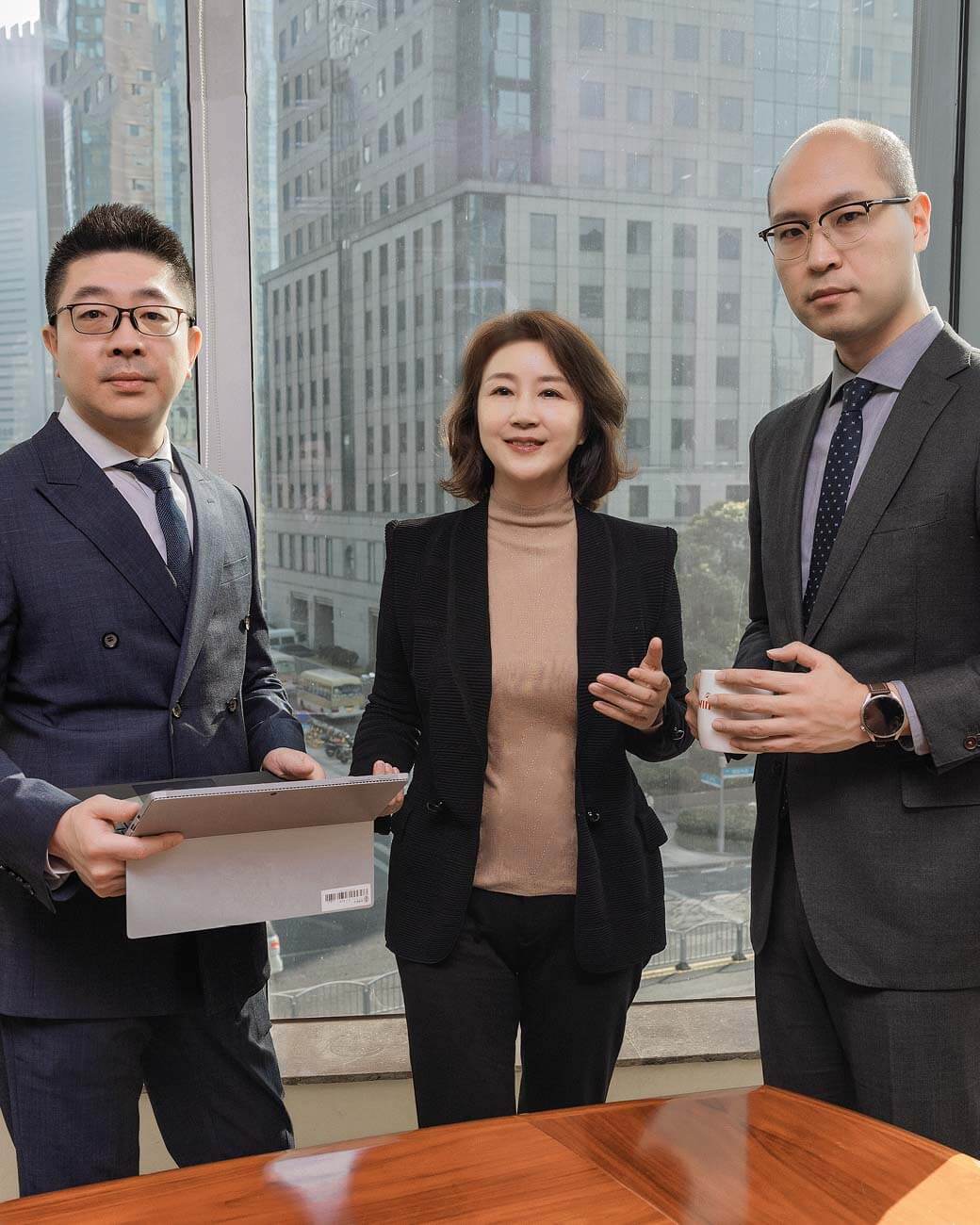 For Bill Ma Baoping, Madame Wang Dian and Zhu Hua (pictured left, from left to right), good relations and shared values are important components of a functioning partnership.
Nick Xiao and Will Wang (left) are the team for the Asian market.